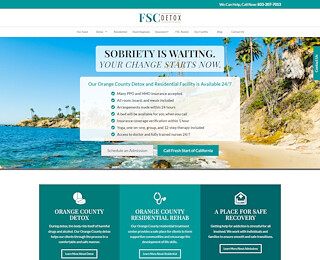 As a victim of chemical addiction, you need to join a professional rehab program as soon as possible. What you have is a progressive illness that's potentially terminal if left untreated. At FSC Detox, we offer you a way out. The rehabilitation process is complex, and it requires knowledge, professionalism, and experience. We don't advise you to attempt any self-detox, due to the high risk of complications that it entails.
Instead, we urge you to visit our addiction treatment center in Orange County today! Unlike your conventional detox clinics, we offer a full package of services and amenities, including:
Friendly and professional staff – The substance rehab program is a delicate period, during which you will be physically and mentally vulnerable. Having a team of friendly experts by your side is invaluable during the recovery process. We are a welcoming family of clinicians, counselors, and physicians, looking to help you integrate into our ranks and provide you with a comfortable and relaxing stay.
Individualized, high-end rehab programs – We don't believe in any universal rehab treatments since we don't think they provide consistent, long-lasting results. Despite their similarities, people function differently and have different needs. We offer patient-oriented rehab programs designed to treat each patient as an individual. From various medication treatments to advanced rehab therapies, everything will follow your clinical profile for maximum benefits.
Social and emotional support – Having a healthy mental and emotional state is vital for the success of the rehab process. At our addiction treatment center in Orange County, we go in-depth, providing extensive psychological support for the entire duration of the rehab program. We offer individual and group therapy on-site, 12-Step meetings, and behavioral and emotional therapies to correct your thinking pattern and restructure your life values.
Holistic healing – There's no doubt about it – prolonged substance addiction will destroy your ability to enjoy your life anymore. Our mission is to revive your spirit's flame and restore your capacity to find joy in the little things around you. We offer yoga classes, guided meditation, pet therapy, music and art classes, and social interactions and activities, to promote inclusiveness and personal development.
Advanced education and relapse prevention – Most rehab facilities fail at educating their patients accordingly. Without a robust set of personal values and knowledge, you won't be able to prevent the relapse over the years. We want to assist you in embracing a lifetime of sobriety, which means you need to adopt drastic lifestyle changes for the long-haul. Here we include improved eating habits, a better job, a more positive social attitude, a more active lifestyle, etc.
If you're already experiencing advanced, recurrent withdrawal, you need to contact us asap! Come to our addiction treatment center in Orange County to begin the rehab program! No matter what everyone else tells you, it is in your power to break free from addiction.
All you need is courage, determination, and the clinical support of our team, at FSC Detox. Our door is open for you 24/7.
Addiction Treatment Center Orange County
Fresh Start of California
714-558-2600
1210 N. Ross St, Santa Ana, CA 92701
View Larger Map