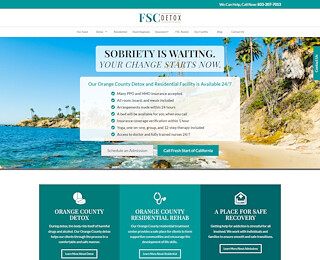 At FSC Detox, we're here to offer you a fresh start. We want to show you that there still is life after addiction and that, no matter what everyone else says, you do have the power to change your life. All you need is a bit of courage and a team of experienced rehab clinicians by your side. And now is the time to act!
Our drug rehab in Santa Ana combines certified clinical procedures with unique and innovative therapeutic approaches for amazing results. We consider our treatment to be more than a rehab process. It is a life-defining experience that relies on a well-rounded mix of medication, psychotherapies, and emotional, social, and professional guidance.
Among the benefits you'll be experiencing, we include:
Physiological stabilization and detox
The first phase in the rehab process is the drug detox, during which our clinician will prescribe a targeted medication plan for immediate cleansing and stabilization. The goal is to alleviate the cravings and restore the brain's natural chemical balance fast. The detox treatment requires extensive knowledge on the subject, which is why we advise against taking matters into your own hands.
To ensure the effectiveness of the detox process, we recommend joining our inpatient program, since it allows our doctors to supervise your progress daily. Contrary to other rehab facilities, we consider that treating co-occurring disorders is just as important as tackling the addiction. Our dual-diagnosis treatment allows our experts to provide in-depth mental support through medication, therapies, and personalized emotional healing.
Spiritual rebirth
Our drug rehab in Santa Ana is a self-discovery program that focuses on notions like introspection, truth, honesty, and acceptance. Drug addiction is a mental illness that will take everything away from you, including your ability to enjoy life in general. We want to change that since happiness is the drive behind any life journey.
Your success, as an individual, depends on your determination to make things better. We'll teach you how to become a fighter, survive addiction, and reclaim your right to freedom and happiness. The only way we'll achieve that is by combining methods of spiritual healing with individual and group therapies and recreative activities. These include yoga, meditation, 12-Step meetings, physical workouts, art therapy, etc.
Lifestyle improvement and education
The only way to prevent long-term relapse is by adopting an entirely different lifestyle. You will need to change everything, from your nutrition to personal habits, social life, career, and familial environment. We'll show you how to remain sober and healthier over the years, as you keep pursuing your goals of achieving a better life.
Everything will become possible during our program of drug rehab in Santa Ana. And we advise you to act now! Drug addiction is a devastating illness that's unpredictable and deadly in nature. The more you postpone the treatment, the worse the situation will get.
At FSC Detox, we have a team of clinicians and physicians ready to get down to business. Contact us, and come see our doctors right away!
Drug Rehab Santa Ana
Fresh Start of California
714-558-2600
1210 N. Ross St, Santa Ana, CA 92701
View Larger Map