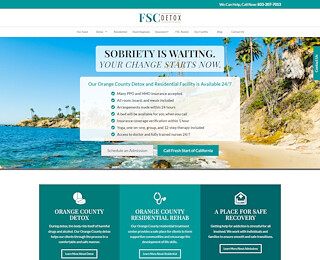 The detoxification treatment is vital for your recovery. Finding the right rehab center, however, is harder than it seems. We invite you to FSC Detox, to join one of the most modern and revolutionary recovery programs in the business. Unlike your regular detox clinics or even hospitals, we approach the rehab treatment from a different perspective.
Our treatment center in Santa Ana operates under the highest standards in the field, offering high-tech equipment, professional staff, certified rehab programs, and a unique take on the rehab process. We believe, for fast and long-lasting benefits, everyone should receive personalized assistance and care. We have created a treatment faithful to this philosophy, offering:
Patient-oriented detox – The detox process represents a transition towards a more stable physiological functioning. It's a period of mental and emotional vulnerability for you, which is why it's vital to only participate in certified detox programs. At our center, we offer a patient-oriented detox treatment, meant to stabilize your mental functioning, cleanse the body, and prepare you for the next procedures.
Dual-Diagnosis assistance – Co-occurring disorders are an increasing problem for most victims of substance addiction. People with ADHD, PTSD, anxiety disorder or depression show a higher risk of developing some form of chemical addiction over time. In many other cases, it's the addiction itself that's triggering some of these disorders. We offer comprehensive dual-diagnosis treatment and care, involving medication, psychotherapeutic support, and emotional and spiritual healing.
Nutrition and physical activity – Our treatment center in Santa Ana features a multitude of programs and procedures, all of them designed for fast physiological recovery. One of our priorities is to help your body recuperate and heal from the physical traumas inflicted by the disorder. Our health specialists will provide you with daily optimal nutritional intake, as you will participate in a variety of recreative group activities. The goal is to strengthen your body and provide you with higher stamina, energy, and a natural influx of dopamine.
Mental and emotional healing – We believe that substance addiction is a more complex disorder than many detox clinics make it out to be. Medication alone won't prevent you from relapsing in the long-term. For that, you need to undergo extensive psychotherapies, as well as emotional recovery-based programs. We offer individualized recovery plans, behavioral therapies, art and music therapy, and 12-Step faith-based meetings.
Education and lifestyle improvement – Since substance addiction is incurable, your only chance of remaining sober is by changing your lifestyle altogether. We will educate you on improving your nutrition, adopting a healthier lifestyle, and working for a better career over the years. You will only achieve success in life by showing moral strength, determination, honesty, and mental and emotional maturity. Our counselors will help you achieve all those things.
Visit our treatment center in Santa Ana today, and start your road to recovery! At FSC Detox, our team is ready to take your case and change your future. Substance addiction is a cruel disease, and you don't need to fight it alone. Accept our help and transform your life!
Treatment Center Santa Ana
Fresh Start of California
714-558-2600
1210 N. Ross St, Santa Ana, CA 92701
View Larger Map